Resort Location
The lavish resort commands a prime site in the tranquil Costa Mujeres neighborhood next to Playa Mujeres Golf Club, designed by Greg Norman, and El Meco Mayan temple.
How to arrive from the airport
Getting from Cancun's International Airport to Garza Blanca is straightforward. Just a 30-minute drive away, this Cancun beach hotel is close by. Arrange transportation in advance to avoid stress or delays upon arrival. Whether by private transfer, taxi, or shuttle, the resort is conveniently located and easily accessible.
Nearby Points of Interest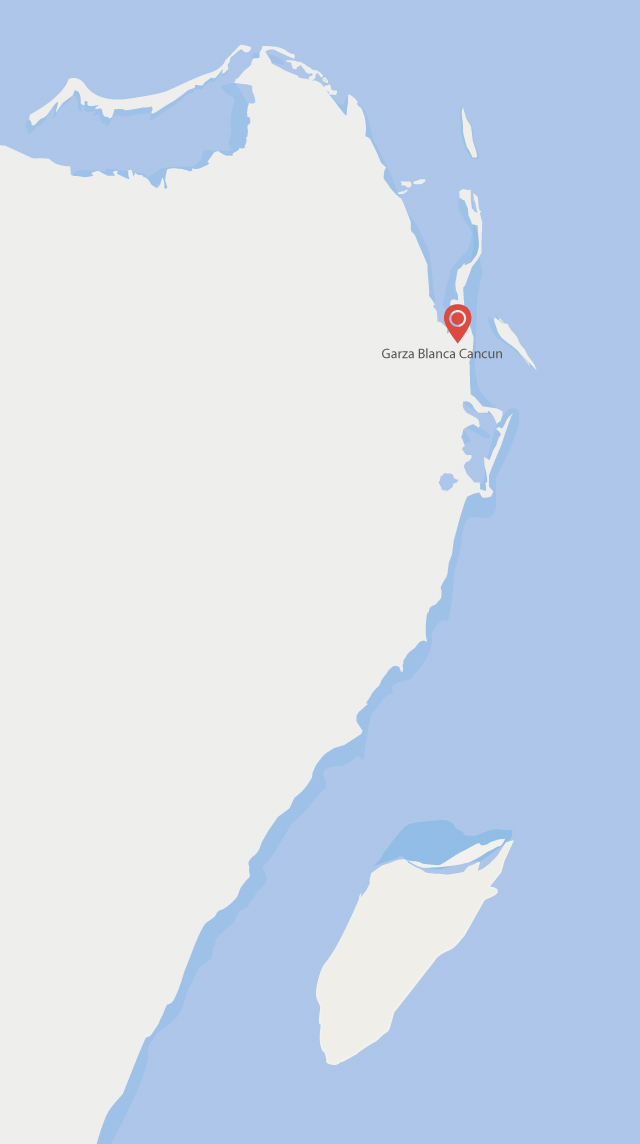 With the best location to stay in Cancun, Garza Blanca is in the heart of the luxurious Riviera Maya and is surrounded by some of the most magnificent attractions and points of interest in Mexico. From impressive pyramids and temples to a lush tropical jungle, this Costa Mujeres resort is near many wildlife and bird species. Visit beaches in Isla Mujeres, known for its soft, white sand and turquoise waters, by boarding the ferry to Isla Mujeres from the hotel zone. The Riviera Maya is famous for its natural cenotes, which offer a unique and refreshing swimming experience. There are many magnificent attractions near this Costa Mujeres all-inclusive resort. Whether you're looking for adventure, shopping, history, delicious local and international cuisine, or pure luxury, there's something for everyone in the surrounding area.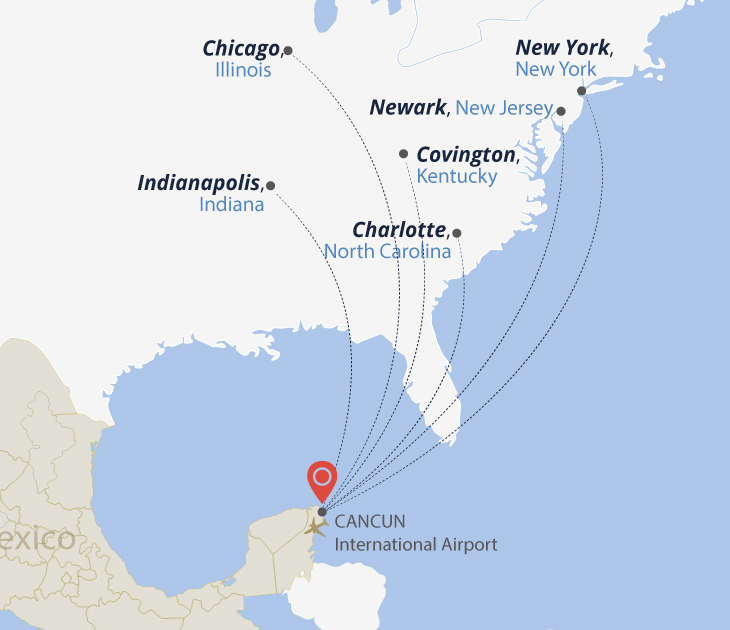 Flights to Cancun, Mexico
Chicago, Illinois (5 h 50 m approx.)
New York, New York (5 h approx.)
Indianapolis, Indiana (5 h 22 m approx.)
Charlotte, North Carolina (4 h approx.)
Covington, Kentucky (6 h 15 m approx.)
Newark, New Jersey (5 h 24 m approx.)
Airlines such as American Airlines, Delta Air Lines, United Airlines, and many more operate flights to Cancun from cities in the United States, Canada, and other regions. To find the best flights to Cancun, you can search travel agencies or the websites of major airlines. You can also opt for Garza Blanca's Hotel and Flight package to make your trip hassle-free.
Frequently Asked Questions
Playa Mujeres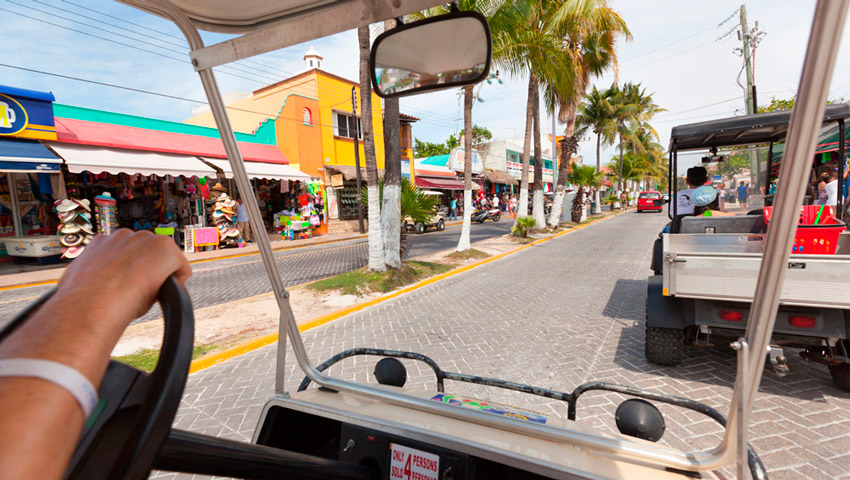 36 minutes from Garza Blanca Cancun by ferry
Hop on a ferry to Isla Mujeres from the hotel zone, and 15 minutes later, you'll be in a small, secluded paradise. A must for anyone seeking a delightful escape, this island will mesmerize you.
Chichén Itzá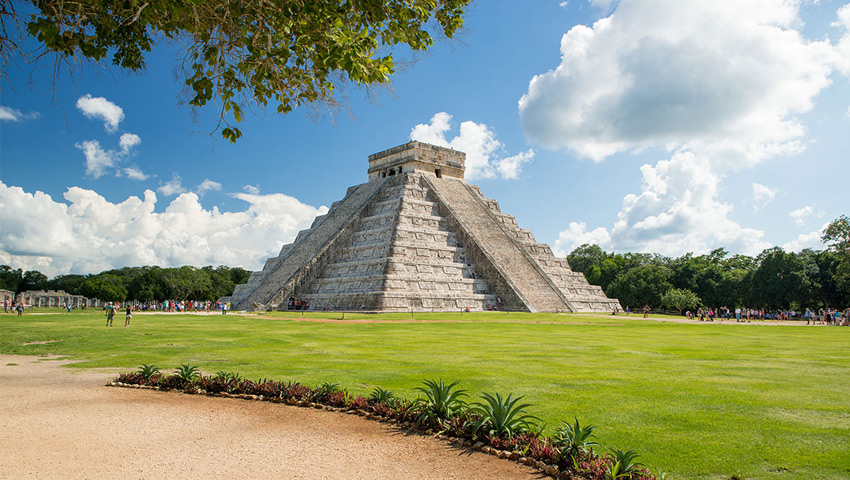 3 hours from Garza Blanca Cancun by car
This ancient Mayan ruin site is one of the World's Seven Wonders. With its towering pyramids, intricate carvings, and underground chambers, Chichén Itzá is an awe-inspiring marvel you can't miss.
Cenotes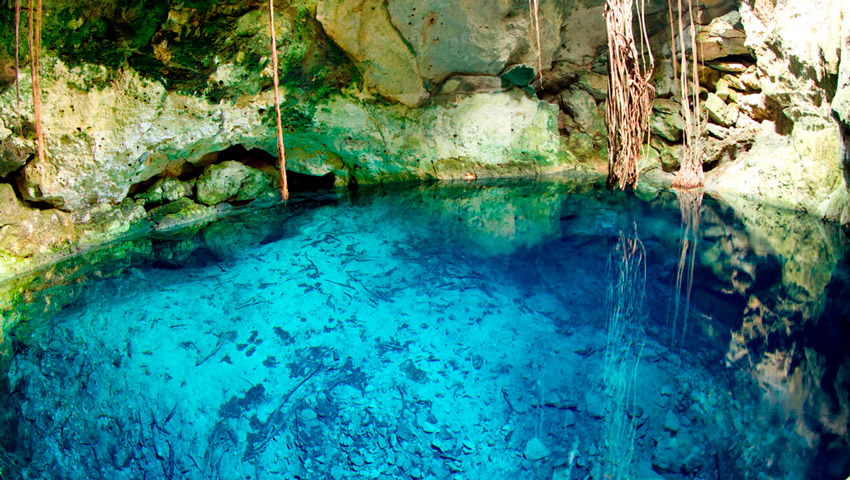 Cenotes are a luxurious way to escape the heat and enjoy the region's beauty. Swim in their crystal-clear waters and explore their unique rock formations and beyond-stunning beauty. Don't miss out!
Playa Mujeres Golf Club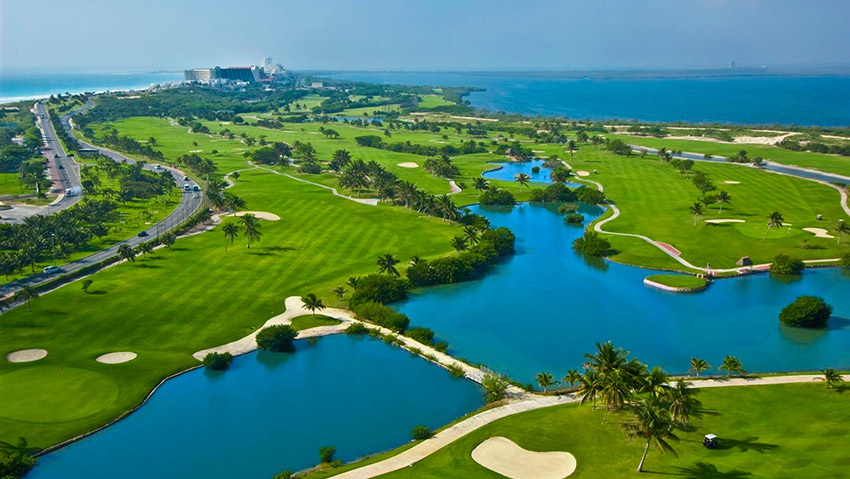 10 minutes from Garza Blanca Cancun by car
A much-acclaimed golf course, it stands among the finest in the country, ranking in the top 10. The Executive Women's Golf Association (EWG) has honored this course with its prestigious recognition.
Playa del Carmen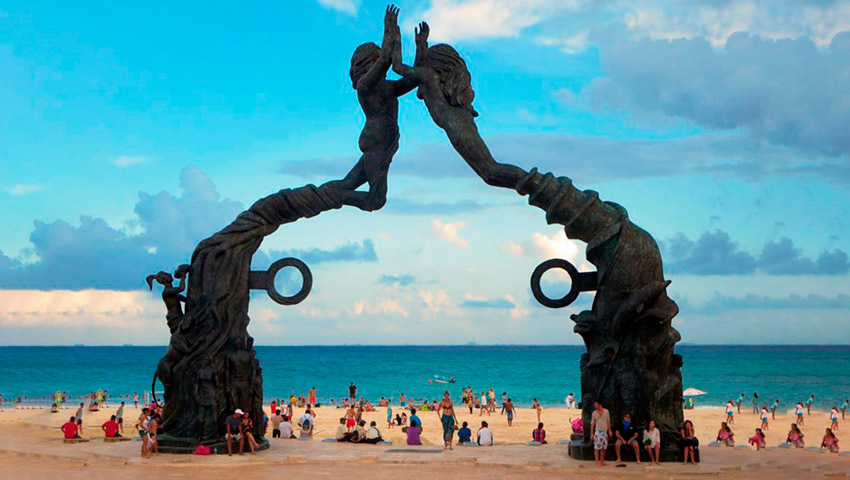 1 hour and 30 minutes from Garza Blanca Cancun by car
Known for its stunning beaches, crystal-clear waters, and vibrant nightlife, it has become a hub for international tourism, offering a range of accommodations, dining, and activities for visitors.
Bacalar
Bacalar is the perfect location for water related activities. The stunning lagoon, situated just in front of city and boasting 7 shades of blue, is ideal for snorkeling, scuba diving and small boat excursions.
Holbox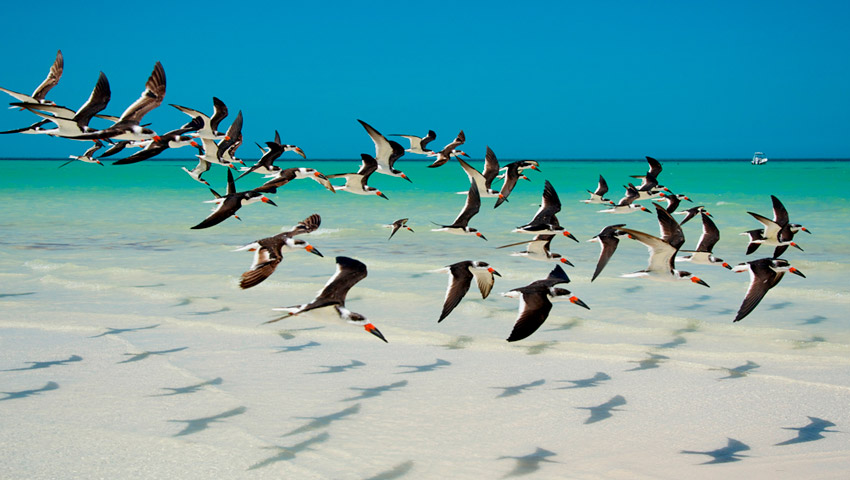 A hidden gem, Holbox Island, is nestled off the sparkling turquoise waters of the Caribbean coast. This paradise invites you to indulge in its picturesque beauty, offering an unforgettable escape.
Adventure parks
With such a rich cultural background and stunning natural wonders, Cancun and its surroundings is packed with adventure parks that include cenote experiences, zip-lines, ATVs and more.
Cancun International Airport
36 minutes from Garza Blanca Cancun by car
The second busiest airport in Mexico, it's a hub for international and domestic flights. With direct flights to destinations worldwide, it's a gateway to the Yucatan Peninsula and Riviera Maya.
Puerto Morelos
53 minutes from Garza Blanca Cancun by car
Known for its charming atmosphere, it's a popular destination for those seeking a relaxed experience. Retaining a distinctly local flavor, it offers visitors an authentic experience in Mexico.
Tulum
2 hours and 5 minutes from Garza Blanca Cancun by car
A must if you like prehispanic cultures and their mysterious rituals. With its preserved ruins and views of the Caribbean Sea, Tulum is perfect for experiencing the history and culture of the region.
Cozumel
2 hours and 48 minutes from Garza Blanca Cancun by car
A picturesque island, its warm and sunny weather makes it a true tropical paradise. It has a stunning underwater world, home to an abundance of colorful coral reefs and diverse marine life.