Purification Cabins
Time to Unwind
Our 16 purification cabins create a tranquil atmosphere to transform your inner being on the path to enlightenment. Here, your earthly feelings will transform into inner peace. With state-of-the-art adjustable therapy beds and bespoke spa treatments, our spa sanctuary invites you to relax and unwind.
MAKE AN APPOINTMENT
DESIGN TO INSPIRE
State-of-the-art massage tables
Sensorial space with soft music
Sensitive temperature control
Automated curtains
The Serenity you Deserve
A Tranquil Atmosphere to Relax
At Spa Imagine, beauty, healing, and relaxation intertwine. We offer an inviting atmosphere designed to recreate the nirvana experience with soft lighting, aromatherapy, and soothing music to enhance each guest's experience on their journey to reach a higher state of consciousness.
The environment enhances each sense and creates the sensation of the soul moving to the height of heaven. With 8 individual treatment cabins and 4 cabins for couples, including the honeymoon suite, this luxury Cancun spa resort is the perfect place for a spa retreat with couples' spa day packages available.
ALL SERVICES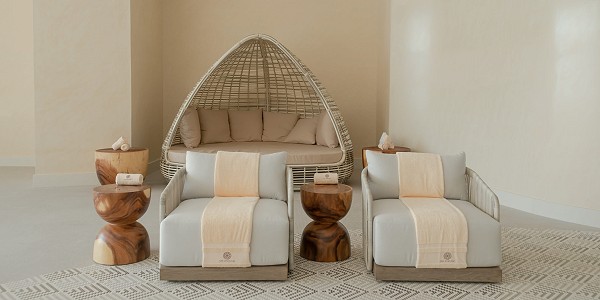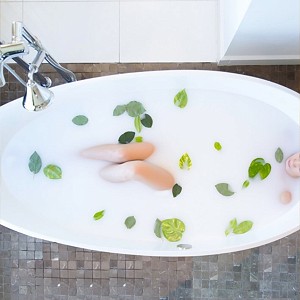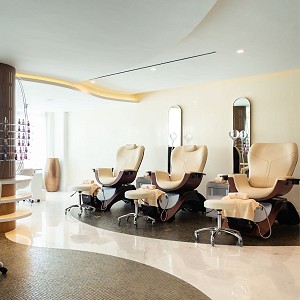 Blissful Spa Retreats
Calm Your Senses
Spa Imagine's specially designed treatment cabins transmit tranquility and mysticism. The clean white spaces with natural stone and wood finishes and soft lighting create a soothing ambience where your soul, mind, and body can be renewed and filled with healing energy.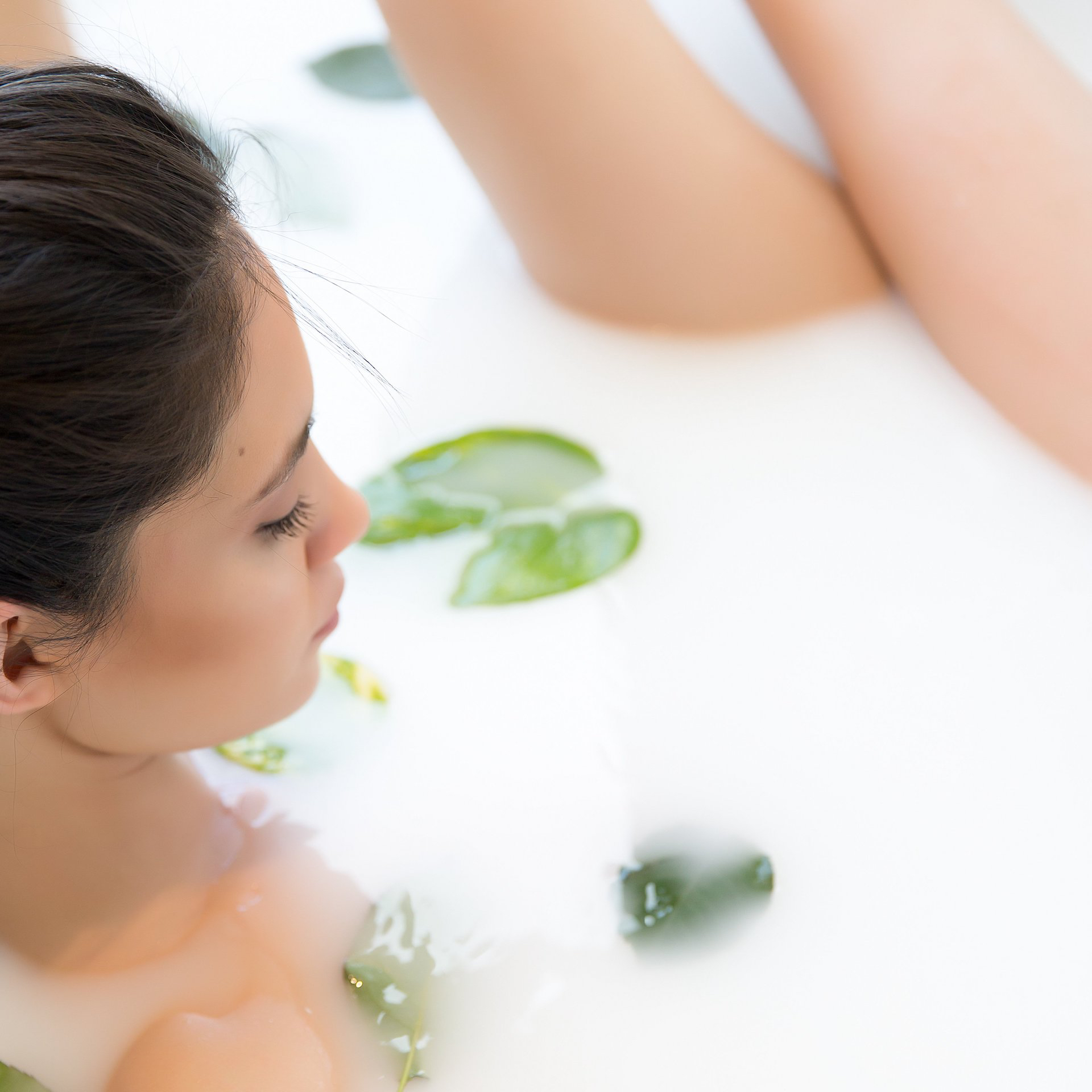 Solo Therapy Suites
The suites LAM, VAM, HAM, SHAM and OM are luxurious individual spa treatment suites designed to optimize healing, relaxation and comfort.
You will find that our expert, respectful and sensitive staff will help you to open your minds eye and reach new planes of bliss and relaxation.
MAKE AN APPOINTMENT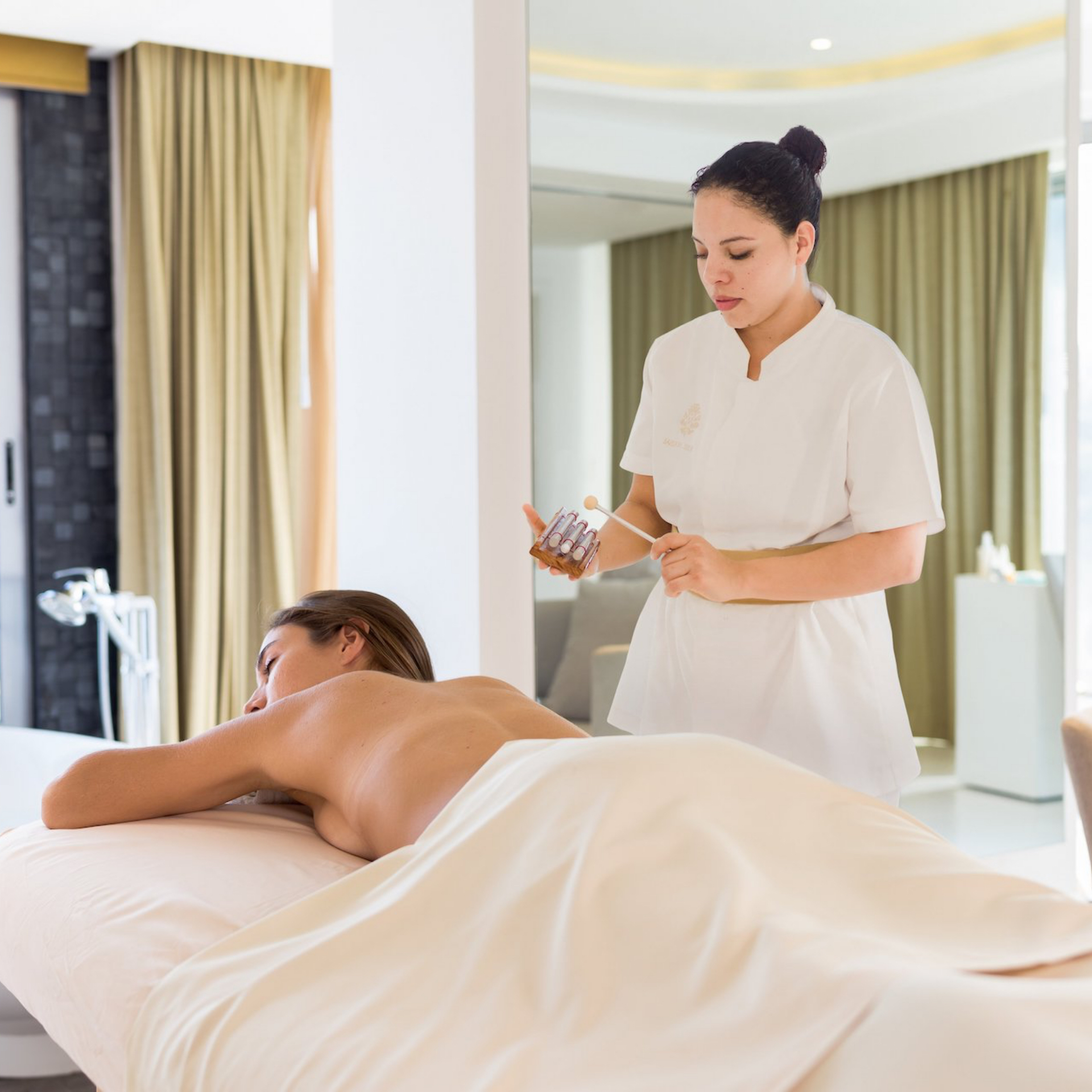 Lavish Speciality Suites
Three specialty suites are reserved for unique Spa Imagine experiences.
RAM: This spacious couples massage suite has two-state-of-the-art massage tables, a luxurious private shower and area for foot ritual.
YAN: This suite is extremely elegant and is perfect for couples on pamper days, or small groups who wish to relax together. Its private jetted hot tub, two day beds and shower make it a very relaxing space.
AURA: The Aura suite is uniquely designed to suit brides-to-be and VIPs along with their entourage. The plush suite has a tear-drop bath, a shower, a large sofa and chairs for well-wishers and, of course, a state-of-the-art massage table.
MAKE AN APPOINTMENT
Spa Imagine
World Class Spa
TERMS
All prices are in US Dollars, includes taxes and a 15% Spa Gratuity. Additional tips are welcome but not required. Prices are subject to change without prior notice. Prices in Mexican pesos may vary due to daily exchange rate.
SPA SCHEDULE
Everyday: 8:00 am – 8:00 pm
ADDRESS
Carretera a Punta Sam km. 5.2 Mza 9 Lote 3, Zona Continental de Isla Mujeres.
SPA CONTACT
(998) 1932600 Ext. 511
Best price

guaranteed

Reserve

Hotel + Flights

TAFER

Rewards

Deal with

the hotel directly

No extra

cost or commissions