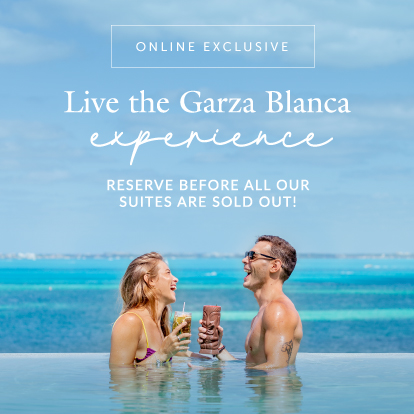 Embark on an epic beach adventure to Mexico's top beach destination: Cancun. Reserve your stay today with this exclusive deal to enjoy a curated experience with the Caribbean Sea as a backdrop.
To ensure your booking, it is essential to confirm your deposit payment at the time you make your reservation.
Searching the best rates for you... Please, do not reload this page.
We have not found any availability
Please try again with other dates.
Amenities & Services
2 premium Food & Beverage outlets
Pool with a hammock relaxation area
3 Jacuzzi
Beach Area (Lounge chairs & day beds)
Enjoy additional access to gourmet restaurants at Villa del Palmar Cancun
All of Garza Blanca´s suites feature extraordinary design and comfort. Your Butler will help you tailor your own summer itinerary. Whether you want to lounge on the beach with pool concierge at your beck and call, experience Mayan culture by exploring nearby sites, discover alluring beaches and snorkeling sites, or participate in resort activities such as dance classes, paddle boarding, the floating Aqua Park, yoga on the pier, or beach volleyball, both the resort and the destination of Cancun will exceed all of your wishes.
---
Guest Reviews & Experiences
IN THEIR OWN WORDS
Find out what other have lived at this pristine resort situated in an idyllic beach location.
Butler above and beyond
From tripadvisor
Beautiful resort and great service.
From tripadvisor
Best all inclusive Ive been to yet
From tripadvisor
Awesome memorable Memorial week!
From tripadvisor
Outstanding
From tripadvisor