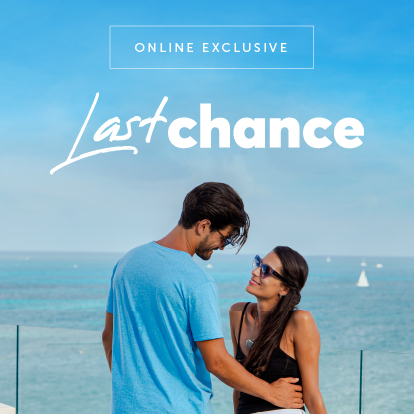 Book your May vacation in Cancun within a budget! Take advantage of this extra discount and start daydreaming about your next stay in paradise. But hurry! This exclusive rate won't last long and our suites are selling out fast.
Searching the best rates for you... Please, do not reload this page.
We have not found any availability
Please try again with other dates.
Amenities & Services
2 premium Food & Beverage outlets
Pool with a hammock relaxation area
3 Jacuzzi
Beach Area (Lounge chairs & day beds)
Activities and entertainment
World Class Spa
Enjoy additional access to gourmet restaurants at Villa del Palmar Cancun
All of Garza Blanca´s suites feature extraordinary design and comfort. Your Butler will help you tailor your own summer itinerary. Whether you want to lounge on the beach with pool concierge at your beck and call, experience Mayan culture by exploring nearby sites, discover alluring beaches and snorkeling sites, or participate in resort activities such as dance classes, paddle boarding, the floating Aqua Park, yoga on the pier, or beach volleyball, both the resort and the destination of Cancun will exceed all of your wishes.
---
Guest Reviews & Experiences
IN THEIR OWN WORDS
Find out what other have lived at this pristine resort situated in an idyllic beach location.
The Ransom Family
rachelransom99
From tripadvisor
Trip to Garza Blanca!
M4478JLsamuelv
From tripadvisor
Dinner
C6161YKtommyb
From tripadvisor
Javier at Bocados at Garza Blanca Cancun
malias923
From tripadvisor
Kevin is the men !
michellegP1622EW
From tripadvisor